In this two-day course, you'll learn everything you need to know to plan an Agile project. After completing the course, you will be prepared to:
Conduct a daily stand-up.
Create and prioritize stories, tasks, and minimum marketable features.
Make reliable iteration commitments and predict iteration velocity.
Customize your long-term planning horizons to the need of your organization.
Make release predictions for coordinating with third parties.
Adapt your plans to create and take advantage of opportunities.
Target Audience
Our primary audience is Agile team members, including product managers, project managers, programmers, embedded subject matter experts, business analysts, and testers.
Managers and executives interested in understanding how Agile planning works will also benefit from this course, as will change agents and other leaders who are transitioning their organizations to Agile.
Course Structure
Diana and I share two core beliefs about training: we want to our students to have experiences, not lectures; and whenever possible, we want those to be real-world experiences rather than metaphors or simulations.
In this course, you will learn about Agile planning through hands-on, interactive activities that allow you to experience first-hand how Agile planning works. On the first day, you'll learn how planning works at the iteration level, including stand-ups, stories, velocity and estimation, making commitments, and managing technical debt. Then, on the second day, we'll look at issues of strategic planning, including product management, minimum marketable features, adaptive planning, risk management, and balancing estimating cost with the need to make long-term commitments.
This course dovetails nicely with The Art of Agile Delivery, which is typically taught in the same week.
Detailed Outline
We regularly review and refine our courses, so this outline is subject to change.
Day One: Stories and Iterations
Agile Overview
Planning Overview
Proficiencies of Planning
Level 1: We Create Business Value.

User Stories
Estimating
The Planning Game
Level 1 Reflection

Level 2: We Deliver Business Value.

Iterations
Iteration Planning
"Done Done"
Daily Stand-Up
Iteration Commitments
Velocity
Slack

Day 1 Reflection
Day Two: Features and Releases
Day 2 Welcome
Level 2 (continued)

Minimum Marketable Features
One At a Time
Level 2 Reflection

Level 3: We Optimize Our Business Value.

Purpose
Customer Discovery
Effect Mapping
Adaptive Planning
Rolling Wave Planning
Level 3 Reflection

Level 4: We Optimize Our Organization's Business Value.

Organizational Challenges
Release Commitments
Level 4 Reflection

Reflection & Clinic: Agile in Your Organization
Closing
Testimonials
"The facilitators were excellent! I really enjoyed the 'jump in and swim' approach to applying what we learned as we went."

Bill Jackson III, Senior Software Engineer, Oracle Corp.
"[The instructors] had a lot of experience to draw from which enabled them to map Agile solutions to real situations."

Don Dornblaser, Director, WebMD
"[The course] Introduced techniques that are on the cutting edge of Agile which solve or answer questions I have in the real world."

Dan Nelson, Sr. Software Engineer, FEI Company
(See the comments for more testimonials.)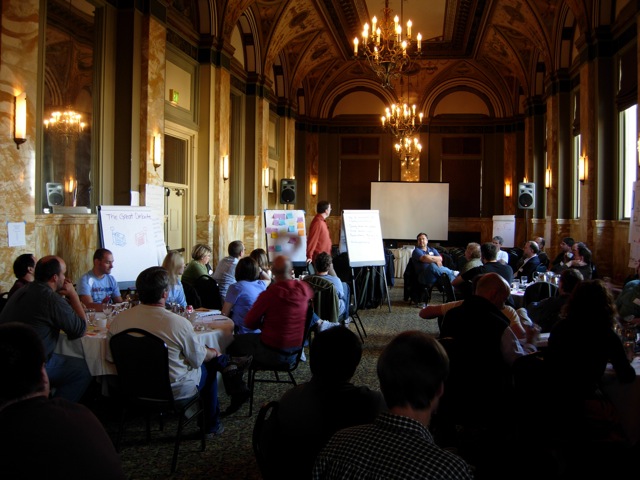 About the Instructors
James Shore is a prominent figure in the Agile software development community. He has been coaching teams in Agile development since 1999 and is a recipient of the Agile Alliance's prestigious Gordon Pask Award for Agile Excellence. James consults with development teams worldwide to help them meet commitments, improve product quality and increase productivity. He is co-author of The Art Of Agile Development.
Diana Larsen consults with leaders and teams to create work processes where innovation, inspiration, and imagination flourish. With more than fifteen years of experience working with technical professionals, Diana brings focus to the human side of organizations, teams and projects. Diana co-authored Agile Retrospectives: Making Good Teams Great! and is current chair of the Agile Alliance Board of Directors.
Together, James and Diana provide the highest level of Agile understanding and expertise. They focus on practical experiences and deep understanding. You'll learn a great deal from them, and you'll have a good time doing it.
Our Philosophy
Diana and I share two core beliefs about training: we want to our students to have experiences, not lectures; and whenever possible, we want those to be real-world experiences rather than metaphors or simulations.
Part of the reason is that "textbook" answers tend to strip out the messy complexity that occurs when you put work into practice. In real-world planning, there's tension and pressure. Different people want different things. There's a fear about what will happen if you don't get everything done by a certain time. Existing interpersonal friction is magnified.
You'll never learn this stuff by hearing a lecture. Most instructors don't even mention it. (Sadly, some teach from books, not experience, and don't know that they don't know it.)
So we do it. Suddenly the stuff that seemed so easy when it was up on the board isn't as easy any more. Mistakes are made. And real learning happens.
(Read the rest of my essay, "Come Drink from the Firehose.")