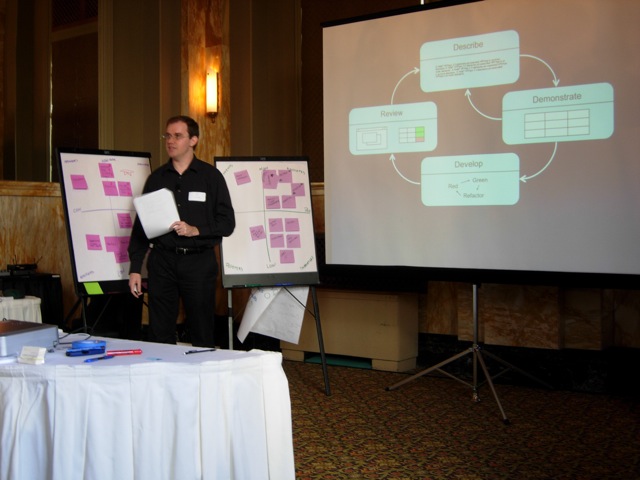 James Shore is a thought leader in the Agile software development community. He combines deep technical expertise with whole-system thinking to help development teams worldwide achieve:
High Throughput: From concept to delivery in two weeks or less.
Market Focus: Emphasis on delivering value and engaging customers.
Opportunity Generation: Conducting experiments and taking managed risks.
Low Defect Rate: Less than five escaped defects per month.
Shrinking Costs: Development and maintenance costs decrease over time.
Joy: Happy team members, happy stakeholders.
James believes that great software development teams consistently deliver market success, technical success, and personal success for team members and stakeholders.
James stated, "My work focuses on these success factors. I teach teams how to work closely with business experts and how to respond creatively and effectively to changes in the market. I work with managers to change the way teams are structured, enhance internal and external communications, and improve tactical and strategic planning. On the technical level, I help teams improve their estimation, build, test, and coding practices."
James was an early adopter of Agile development and he continues to lead, teach, write and consult on Agile development processes. In 2001, he was one of the first ten people to sign the newly-released Agile Manifesto and in 2005 he was an inaugural recipient of the prestigious Gordon Pask Award for Contributions to Agile Practice. James is a popular lecturer on software development process and his writing has appeared in many industry publications, including IEEE Software, SD Times, and Better Software. His work is frequently referenced in the press and his Art of Agile blog is regularly found on AgileDaily's list of top twenty most recommended Agile blogs. James is the co-author of The Art Of Agile Development (O'Reilly, 2007).