I work with people who want to be great.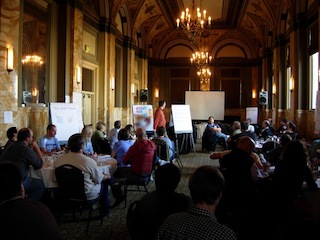 Great software teams consistently deliver market success, technical success, and personal success for team members and stakeholders. I help teams achieve:
High Throughput: From concept to delivery in two weeks or less.
Market Focus: Emphasis on delivering value and engaging customers.
Opportunity Generation: Conducting experiments and taking managed risks.
Low Defect Rate: Less than five escaped defects per month.
Shrinking Costs: Development and maintenance costs decrease over time.
Joy: Team members look forward to coming to work, and stakeholders love working with the team.
Greatness doesn't require great talent. Talent doesn't hurt, by any means, but I've helped ordinary people work together to create great teams. No, it's not talent that's needed. What's needed is will.
To be great, you have to be willing to take risks, rock the boat, and change your environment to maximize productivity, throughput, and value. If that's you—particularly if you're in a product-focused, entrepreneurial environment—I want to hear from you. We can do great things together.
(Read my essay, "Stumbling Through Mediocrity.")
Services
I provide high-performance, team-scale immersion coaching. That means I work directly with teams, on their real-world work over the course of several months, to help them grow into high-performance teams. On the Agile Fluency scale, I target three-star fluency. (Three-star teams are proficient in focusing on value, delivering it frequently and reliably to market, and making optimal market decisions.) As part of my work, I mentor self-starting team members in becoming thought leaders in their organization and local software development community.
My services are perfect for teams producing high-value products. A typical customer is a startup or small-to-medium sized business whose early success is now hampered by the pace and quality of software development. My services are also a good fit for larger companies seeking to create teams that act as centers of excellence, inspiring and helping to transform other teams in their organization.
I am also available for speaking engagements and high-end training. I focus on skills and ideas not found in commodity Agile training courses. I am typically hired to teach and inspire new ways of working, with an emphasis on shooting for excellence rather than accepting mediocrity. My training work often includes a consultative component to help organizational leaders prepare to respond to team members' enthusiasm.
Every engagement is unique and customized to your situation, and I'm always happy to recommend other consultants if they would be a better fit for your needs. Please call or email me to discuss your options further.
About James
James Shore is a thought leader in the Agile software development community. He combines deep technical expertise with whole-system thinking to help development teams worldwide achieve high throughput, market focus, productivity, and quality. His work helps teams generate opportunities, reduce risk, and respond quickly and effectively to changing market conditions.
James teaches, writes, and consults on Agile development processes. He's a featured speaker at conferences around the world. He led his first Agile team in 1999 and conducted his first Agile team transformation in 2000. He is a recipient of the Agile Alliance's 2005 Gordon Pask Award for Contributions to Agile Practice and is co-author of The Art of Agile Development (O'Reilly, 2007). In 2012, InfoQ named him "[one of the] most influential people in Agile." Today, he focuses on helping people who are willing to make dramatic changes in order to achieve great results.