Services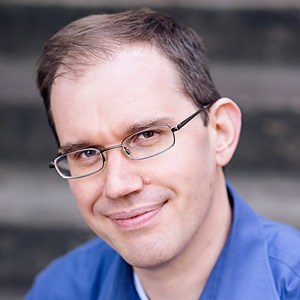 Great software teams consistently deliver market success, technical success, and personal success for team members and their organizations.
I've helped software leaders guide their teams to success for over 20 years. Hire me to unlock business agility and technical capacity in your organization.
Who I Am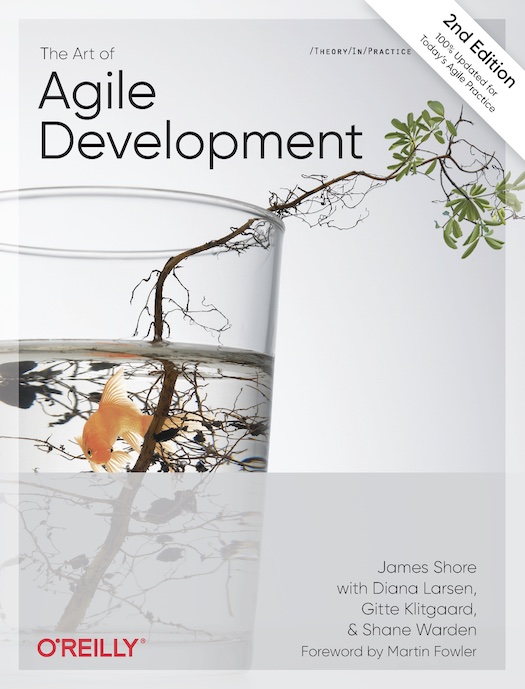 The Art of Agile Development
I'm James Shore, a thought leader in the Agile development community. I'm co-author of the classic Agile how-to guide, The Art of Agile Development. I'm also co-creator of the Agile Fluency® Model, a highly-regarded guide for Agile adoption, and I'm a recipient of the Agile Alliance's Gordon Pask Award for Contributions to Agile Practice.
Learn more about James Shore here.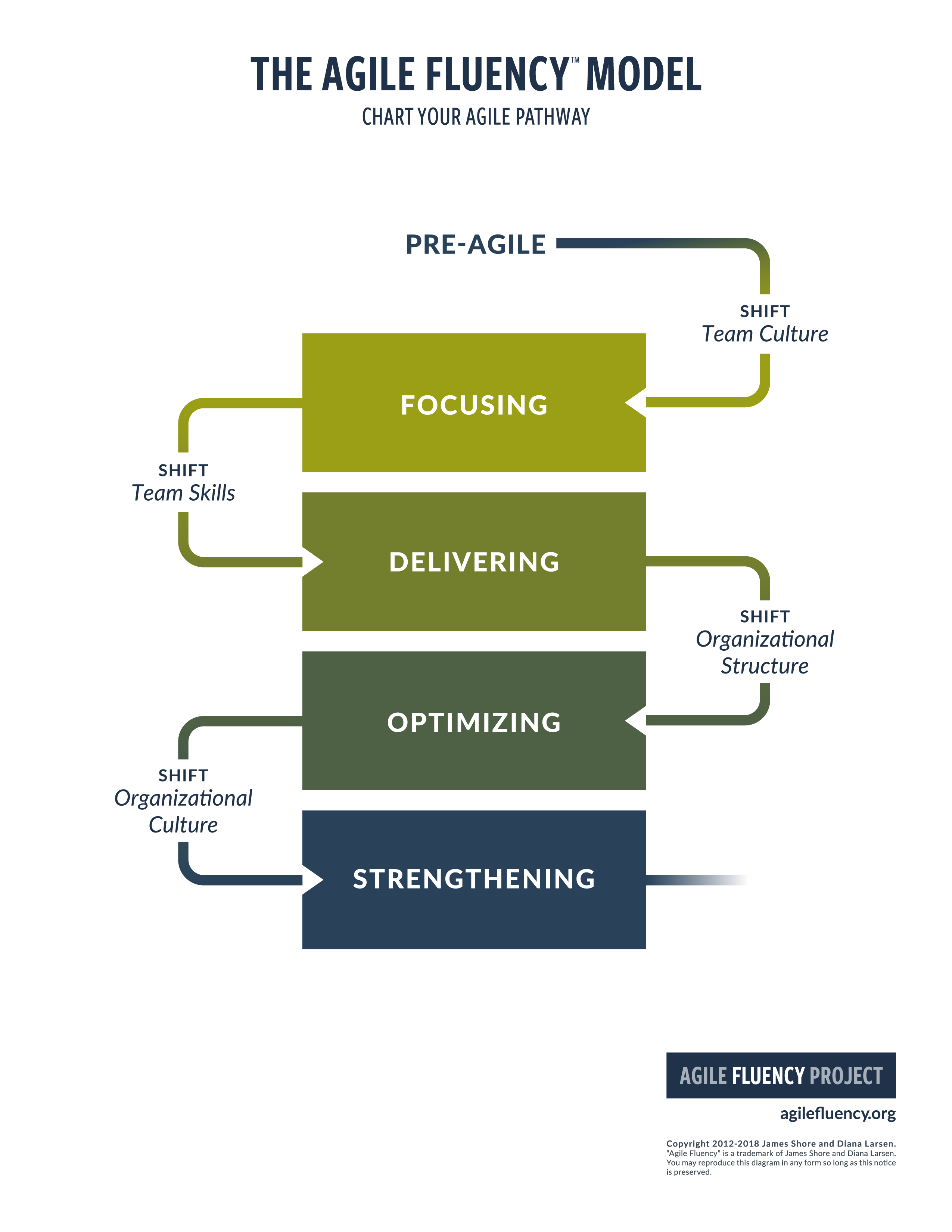 The Agile Fluency Model
More importantly, I'm an experienced consultant who can help you get the results you need.
What I Do
I help software leaders get results.
Specifically, I combine deep process and technical expertise with decades of experience. I will help you achieve:
Faster Delivery. Increase throughput, decrease lead times, and resolve cross-team bottlenecks.

Lower Costs. Reduce defects, eliminate wasted effort, and improve maintenance costs.

Better Business Agility. Align development to market needs, make more frequent bets, and take advantage of new insights.

Higher Morale. Reduce turnover, increase productivity, and resolve friction.
When you hire me, you work with me, James Shore, not an employee. I'll stick with you every step of the way. I focus on one client at a time.
My work is fixed price, so there are no surprises, and I guarantee my work. We'll choose specific results to achieve and I'll keep working until you agree it's done.
I use a combination of training, direct team coaching, and train-the-trainer coaching to make a difference that lasts. I'm fully prepared to work remotely.
Who I Work With
I specialize in results for software development organizations.
Great results don't require great talent from your team. Talent doesn't hurt, by any means, but I've helped ordinary people work together to create great teams and organizations.
No, it's not talent that's needed. What's needed is will.
To be great, you and your organization have to be willing to change your environment and established ways of working to maximize productivity, throughput, and value.
In practice, this means that I need leadership support for making changes. I work best in software development organizations of less than 500 people, or divisions of this size within larger organizations.
If that's you—particularly if you're in a product-focused, entrepreneurial environment—we can do great things together.
If that's you, but not your organization, or if you're not in a high-level leadership position, don't worry. We can still make a difference. We can start with a smaller effort, or we can bring your leadership on board before I begin.
All my work is customized to fit your goals, budget, and situation. I can work with a single team, several teams, or your entire organization.
Contact Me
The first step is for us to talk about what you want to accomplish and what it will take to get there. Contact me for a free consultation:
What People Say
Clients love my work.
We had a large development team with over 160 Software Engineers and were having problems on a number of fronts... When I first met Jim, I quickly became confident that he had seen these problems before and they weren't uncommon at our size. He also gained my trust by revealing a blueprint for how to solve these problems. I was relieved to finally have a game plan for getting our product development organization back into shape.

[Jim] coached and mentored our people as they dissected the organization, figured out where we were getting "stuck" and helped us work through solutions. He brought a template for how organizations work at scale and coached our team on how we would implement it. More than anything else, Jim taught us how to think about large-scale organization structure and processes.

Our investment with Jim was money well spent and I would highly recommend him to anyone who is looking at remaking his or her software development organization.

Jim G., CPO
Jim was there every step of the way... He showed great diligence (and patience) in leading our training. And he provided deliverables that immediately demonstrated why the effort would be beneficial. Ultimately, he was able to get people to buy into a process that, quite frankly, we were expecting many people to resist.

Our investment in Agile has paid great dividends. It has helped us to focus, to improve our throughput, and to strengthen our company culture. We have Jim Shore to thank for that. For any company looking for an Agile coach, we would give Jim our highest recommendation.

Tod H., CEO
Jim spent many weeks working alongside our teams to understand our business and our development model... [his technique] was amazing at getting our employees to buy in to the changes that needed to be made to our team structures.

...Jim continued to work with us through the transition and the outcome is much better than I had hoped for. Only two months after the transition the productivity on each of our teams has increased many fold. Employees are happier and feel in control of the products they work on.

[Our company] has greatly benefited both financially and socially from Jim's work. Jim's top-notch experience and knowledge goes hand-in-hand with his very easy-going demeanor. He also doesn't hesitate to stick his neck out to push people forward through the process. I would highly recommend Jim to any company looking for an agile consultant.

Chad B., CTO
We had grown organically over the prior seven years... Inefficiencies were rampant and our ability to deliver the Product roadmap was precipitously declining.

Jim has guided us exceptionally well over the last six months on a journey of great transformation. He educated teams whenever and wherever they needed it. His thoughtful, though provoking engagement model achieved top-to-bottom buy-in across a wide spectrum of yea and naysayers. He forced management to tackle tough questions we would have sidestepped... He continually impressed us with his adept understanding and discourse around what kept our dreams... out of reach.

...In my 40+ years working in the industry, I have worked with many consultants. I can honestly say that none has meshed as well with my team or achieved nearly the results that Jim has. I give Jim my highest recommendation.

Mikey B., SVP Engineering
I've hired James Shore twice over the years in two different companies to help raise the level of team performance through better understanding and practice of core Agile concepts, methodologies, and engineering skills. James did a great job in both engagements. James is an engaging speaker and an effective teacher... After the training my teams were jazzed to incorporate what they learned into their day-to-day efforts and we saw great improvements in delivering business value, predictability, quality, and team culture.

Larry B., VP Product Development
Jim Shore is one of the most creative and rigorous minds in software development today. If creative problem-solving and rigorous [Agile] don't sound like a fun mix to you, think again! We worked together on that project in 2001, and—of any project in my 20-year career—I learned more, wrote the finest code, and had the most fun. Whenever a team is struggling with a unique problem, I still tap many of the fundamental lessons learned in 2001.

Rob M., Senior Consultant
I've got to say that I've learned more about coaching and [Agile] and design by reflecting on what you had to say. I do a lot of "Jim said this would happen and I didn't believe him then, but now...."

...You may not know it, but you influenced me to think in completely different ways, and to question traditional assumptions about everything I thought I knew about software—from leading a team to designing software to testing. I'm a better coach and programmer today because you were strong enough to endure my stubbornness.

Chris W., Team Coach
Contact Me